Those who love traveling again discover an island with pink sand beach on the blue coast, unbelievably beautiful in Indonesia. Pink Beach, also known as Pantai Merah, is one of the rare pink beaches in the world.
Therefore, after the beautiful images here are spread, the island will definitely be on the "wish-list" of the tourism community. Especially those who are intending to travel in Indonesia independently.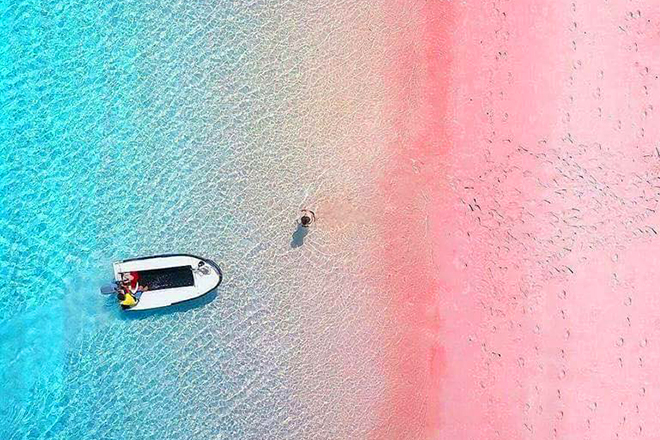 The beach owns a natural pink sand beach, on the turquoise coast with clear water at the bottom. At first glance, many people will think this is the product of some photo-editing software. In fact, this is the natural color of Pink Beach and the color here can vary depending on the intensity of sunlight.
On favorable days, the beach will glow in a brilliant pink, especially from above. Through the photos recorded from flycam, the color of sand gradually fades to jade color, beautiful as a magical palette of nature.
The romantic pink of the long sandy beach is due to a micro animal called foraminifera. This microorganism is red and lives hidden under white sand, giving the beach a dreamy pastel pink that many people do not believe in their eyes. In addition to Pink Beach, several small beaches on the east of Komodo Island are also habitats of this particular species.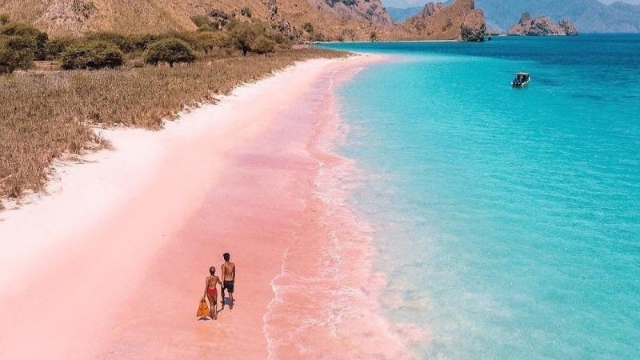 Pink Pantai Merah Beach is located on Komodo Island, west of Flores Island. This is one of the most popular archipelagos among tourist destinations in Indonesia with Komodo National Park. The archipelago is home to the legendary Komodo dragon and is a natural wonder.
It is visited by millions of visitors around the world each year. With the popularity of the pink beach, this place becomes even more attractive to the eyes of Indonesian tourism lovers.